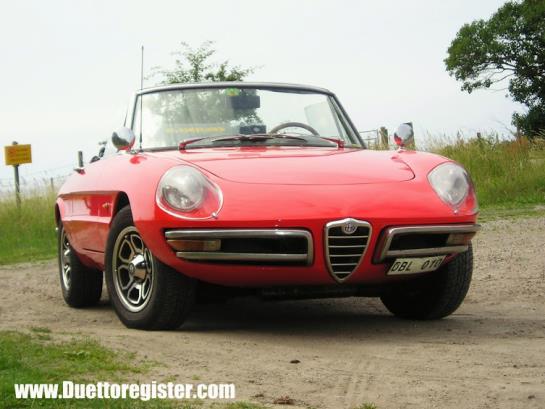 AR514, AKA Rosso Montecatini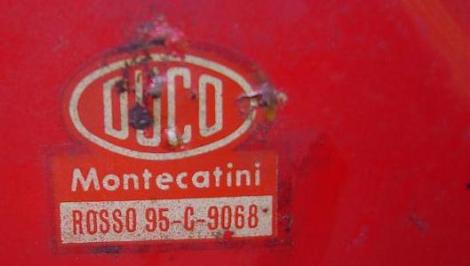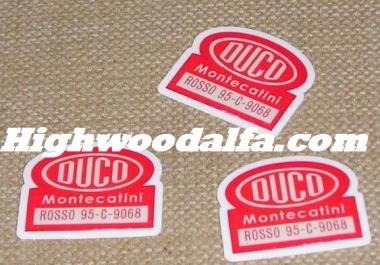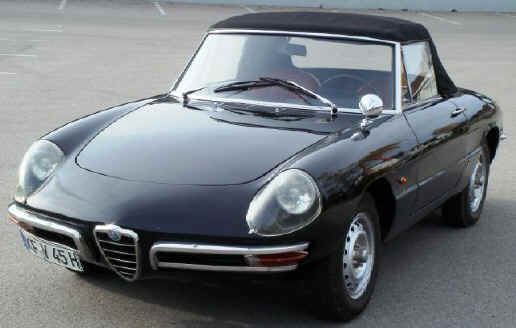 Well, not all of them, some are black but . . .
The 1968 colour information is from the sales material and www.duettoinfo.com While we are at it, the Montecatini was the name of the comapny that manufactured the paint, it is also a lovely town in Tuscany, Italy.
Here you may find the red colour codes used by Alfa Romeo OEM. Rosso is my favourite colour. Roundt-tails also came in white, green, blue, black, silver etc. I have focused on the red colour codes. The code numbers are easy to find, since they are the same used by PPG, DuPont etc. paint shops. Here is a company you may try too: touchuppaintonline
The red colour is the classic Alfa Romeo racing standard. Italian racing cars were always red. Today only (?) Ferrari has the red colour in F1 of the Italian racing teams. It is quite odd to see that Alfa Romeo changed the tone from bright red, close to orange, to the burgundy/blue tone through the years.
You will find the colour code on a small plate under the boot lid to the right. If you respray, any local paint shop will be able to mix the red colour you like if you tell him the OEM #.
The Duetto came in the following colours from factory:
Spider 1.6 duetto 1966-1967

Avorio

Bianco Farina

Rosso Farina

Blue Medio

Celeste

Verde

Grigio Grafite

Nero
1750 Spider Veloce 1967-1971

Bianco Farina
Avorio
Celeste
Blu medio
Rosso Farina
Verde inglese
Grigio Chiaro Metallizato
Nero
*until July 1969
Spider 1.3 Junior 1968-1973
Bianco Farina
Avorio
Celeste
Blu medio
Rosso Farina
Verde inglese
Grigio chiaro met
Nero
Giallo prototipo**
Grigio indaco**
* until July 1969
** fStarting November del 1972
2000 Spider Veloce 1970-1977


Rosso Italia
Verde inglese
Grigio indaco*
Nero
Avorio
Grigio chiaro met.
Giallo prototipo
Blu
Bianco Farina
*until September 1976

Spider 1.6/2.0 1980-1983
Rosso Alfa
Avorio
Nero met.
Grigio chiaro met.
Verde acqua met.
Spider Q.V. 1.6/2.0 1986


Q.V.: rosso e grigio met.
2.0: bianco, rosso, nero e blu medio met.
The 1750 Veloce had these option:
USA
Red
Light Blue
Midnight Blue
Ivory
White
Light Gray Metallic
Apple Green
Black
Graphite Gray
EUROPE

Pininfarina White or Bianco Pininfarina
Ivory or Avorio
Italia Red or Rosso Italia or ROSSO MONTECATTINI
Pininfarina Blue or Bleu Pininfarina
Sky Blue or Celeste
Metallic Light Grey or Grigio Chiaro Metallizzato
British Racing Green or Verde Inglese
Black or Nero
The complete charts are also sorted by code and by name. The 1968 colour information is here: colour chart, then the Duetto options, the Berlina combinations and the GT Veloce chart.

Alfa Romeo colour codes for "Rosso" Alfa OEM code
Colour name Years PPG code #
x x x x Rosso Farina '61-62, 67 71290
KF-185504 Rosso Cardinale '62-68 71456
303 Alfa Rosso Corsa '63-68,73 71297
C-9068 Rosso Montecatini '66-69 Glassurit's AR504. VW-AUDI "Marsrot"
4506 Rosso Chiaro '68-69 71726
501 Rosso 501 Classico '69-70,74-81 71818
4501 Rosso '69-70 71819
510 Rosso Carmen '71-72 72052
519 Rosso Zagato '73-74 72050
514 Rosso Semaforo '75-85 72051
534 Ruby red poly '77-81 72287
530 Alfa rosso Spider '82-90 72528
537 Rosso Venetia '84 72634
538 Red poly '84 72635 note
547 Rosso Cabernet Spider '87-89 73029 note
552 Rosso Bordeaux '87 73032 note
555 Alfa Rosso 555 '88-90 73151
130 Alfa Rosso 130 '89-94 73464 note
179 Rosso Vinaccia '91 73836 note