Il Cuore d'Alfa.
I saw "The Graduate" movie over and over again, just for the Duetto. I found it hard to understand why Dustin Hoffman preferred Katherine Ross instead of the Duetto, but that's me. This film was very popular and everyone was talking about it. I was talking about the Duetto.
My friends drove Jaguar, Porsche, Morgan and MGB's but I was the only Italian-freak. We had a good time, lot's of parties and lots of beer. Time flew away.
I had painted the Giulietta rosso, and she was as beautiful as ever. I drove her even during wintertime. The Swedish Alfa owners were slightly getting together. In Upsala I had a friend, Anders Tillman, who had a Giulietta Berlina 1300TI. He was a very skilled and qualified mechanic and we were overhauling our Giuliettas like mad.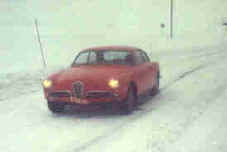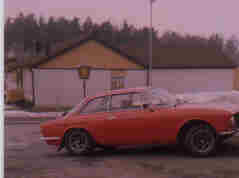 If the cars were perfect, we stressed each other to find something to do with our Alfas. Like "it sounds as if you forgot some tools in the gearbox" or "that blue and black smoke from the exhaust, is it a diesel?".
He also had some friends in Stockholm who was organising the CAR of Sweden. Good guys like Englen, Rask, Arne Andersson, Sven Fernqvist sure were enthusiastic. They had meetings on racing tracks in Sweden and everyone was happy. My friend Haakan Sandler had a red Alfetta and I had a blue one. We drove our Alfettas like mad in the forest south of Stockholm. That was really fun. There were some good drivers then, especially Bjoern Stenberg and Ragnar Seegring, later they were driving GTA's with great success.
This red Giulia GT was my favourite in the '60s. In those days there was no problem with rust. A twin-cam engine with Webers was not an everyday sight. The alloy wheels are Momo Vega's. I still have them, that's quality.
In those days I was still constantly locking for a Duetto. The MGB was a favourite in Scandinavia. I found the MGB to be a good car with a heavy Austin cast iron block engine. Some of my friends drove MGB's but I was not particularly interested.