It was a slow beginning, but there was more to come.
By then I had just bought a 1957 Giulietta Sprint. The car was in a terrible condition, but that's the fun part of Alfas, restoring and meeting new Alfaholics. Talking in the garage and arguing of the best solution for various mechanical problems. The Giulietta had the fuel pump on the left side of the engine. This scared me, 'cause if the hose broke, the fuel would be spread just over the hot exhaust. That would be a true burnout.
However, I had no problems there, but rumors said that "in Italy there's one Giulietta burning a day". My only concern was that if it happened to me, I would end up in the newspaper unable to read it if I was all carbon.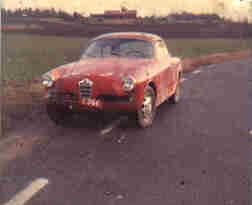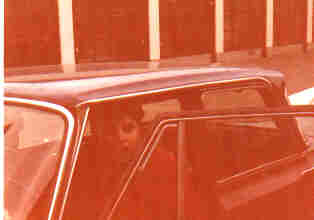 This is a photo of my Giulietta. The overhauling has just started and she's being stripped but I just simply couldn't let her just stand there. I just had to drive. The red license plate indicates that I didn't pay tax for her. I used the red plate since the car was not registered at that time.
The Giulietta had enormous drum brakes, extensively finned. They were very good and I had no problems. In those days there were not so many cars on the roads in Scandinavia and very few Alfas. It's amazing how the design of the old Giulietta still looks modern and up to date. My model had the small "lobster-hooks" in the front and not the somewhat bigger chrome bumpers that were introduced in 1960.
I was working at that time in the summer for an Italian Agency "Viaggi Condor" and since one of the bosses had a brother who was an Alfa-dealer, we drove Giulias. When I returned back to Scandinavia that fall I didn't talk so much about Giulias. I realized that most people here knew very little about Alfas. Volvo had introduced the Amazon with twin carbs and SAAB was champion in the Rallies in Europe.
FIAT was dominating the market to some extents with the124 and 125 cars. The photo shows my blue Giulia Super in Italy the summer 1966. Good performance, fun to drive but not a Spider.
The next summer when I returned to Italy, I drove a FIAT 124 Spider, that car too had a twin-cam engine, five-speed gearbox and disc brakes. Quite good. It was so fun in Italy! However, my "Patrone" Stefano Pattaconi had a kid brother Sandro who owned a brand new Duetto.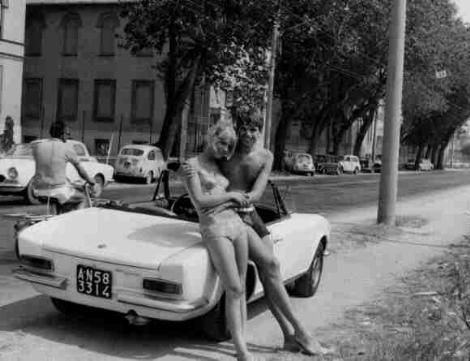 That sure was something. I got up early in the mornings just to look at it and drive it when the sun was rising over the Adriatic sea. His Duetto had a record player installed. It was very primitive and I only had three records at that time in Italy. Neil Sedaka's Oh Carol, Rita Pavone's Cuore and Jerry Lee Lewis.
I bored my dates (in the mornings) driving that Duetto playing the same records over and over again. I did enjoy myself, believe me! Back in Sweden I had a 1750 GTV and the Giulietta Sprint. But I was constantly thinking about the Duetto. They were utterly rare in Scandinavia, in fact I had never seen one at that time in the streets yet.