Part #4.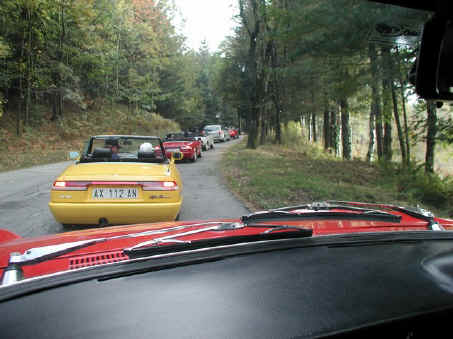 Sunday 19th October was the Alfa Romeo Duetto Club meeting day with a tour into the mountains that started from Arona, a lakeside town on the southern tip of Lake Maggiore. Our group of three Spiders already gathered at Lake Como set out early and arrived at Arona shortly after 9 a.m. where we found a large lakeside area reserved for the Duetto Club.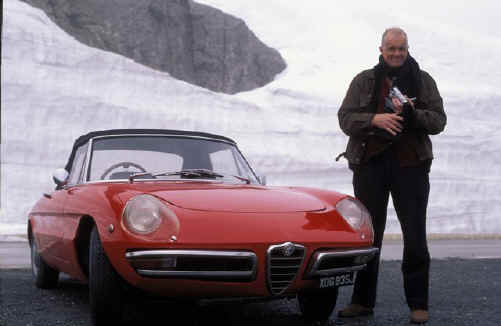 During the next two hours over 70 '105 type' Spiders assembled and registered, leaving at about 11.30 in an impressively long procession that snaked its way up into the mountains west of the Lake Maggiore, overlooking Lake Orta with its island of St Giulio. When 70+ Spiders are on the move, the lengthy convoy is all too easily dislocated at junctions and traffic lights, etc. To enable us to stay together the organisers called a halt every so often - although finding a stretch of road long enough to do this was not easy! In this way it was ensured that all outfits were with us as we made our way through the mountains.
After climbing for many miles our convoy eventually left the forests and still continued upwards through ever wilder terrain of the Mottarone. Eventually we arrived at what was clearly the highest point at approx 1600m. By this time the views looking northwards towards the Alps and the Simplon Pass into Switzerland were stunning, with magnificent snowy peaks forming a majestic panorama across an intervening valley. It was up here that all our Duettos parked around a restaurant named (translated) "House of the Snow". As planned, Club members took over the large dining area for a 'rustic lunch' traditional in the region comprising a wide variety of grilled meats served with fried vegetables and accompanied by appropriate local wines.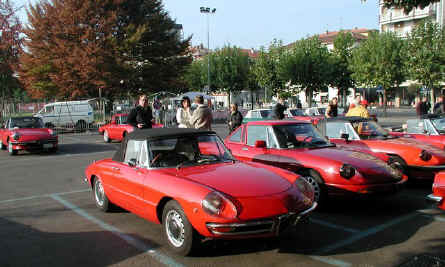 Our massive contingent of Alfa Romeos then proceeded down again following a private road through the forest and, once again, to Lake Maggiore but now in Stresa. There a lakeside carpark area had been reserved for the Duetto Club. As our convoy snaked through evening sun into the busy centre it was clear from the boisterous traditional music and smoking braziers that we were parking alongside an ongoing roast chestnut party - one of many that we saw throughout north Italy in that season.
This one was a big charitable affair being run by retired members of the Italian mountain army force; the 'Alpini'. Dave and I strolled among the Alfas parked in this wonderful lakeside location finding all the club members we could in the smoke of the chestnut braziers, munching roast chestnuts - or at least I did: Dave's allergic to nuts - and made our adieus. It was a great end to the Club tour and this visit to Italy.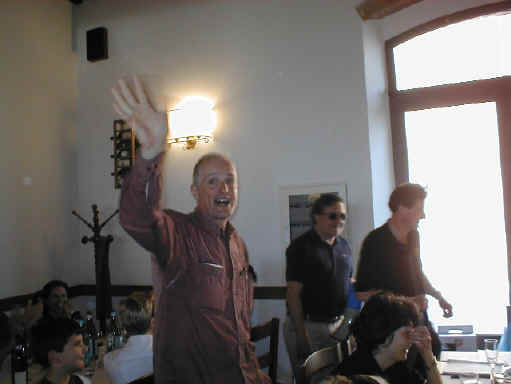 Dave had a tight Tuesday deadline in UK to meet a guy needing some race engines, so by 5pm we were driving out of Stresa. After serious jams, caused perhaps by the reported 75.000 'Tifosi' meeting at Magello that weekend and seemingly by all the other cars in north Italy crowding the lakes that weekend, we drove overnight through Switzerland - if you're in a classic Spider the St Gotthard tunnel is good in the quiet of the night and negotiating Basel at 2.30am is highly recommended - and eastern France past Strasburg - to which we were not endeared by teeming rain, ill-defined road lanes and notable lack of 24 hour services - and onto the good French toll motorways.
After a couple of stops to catch up with a few hours' sleep, snatched in surprising comfort in the Spider as rain hammered down on the mohair roof, we reached Calais in good time for the 3.30pm Monday SeaCat crossing and after a mercifully clear anti-clockwise run round the M25, Dave was in good time for his appointment. And how did the car perform on the two halves of its Italian adventures?
I think this 34 year-old car's performance is best summarised as exemplary. In terms of the engine, it scarcely missed a beat: Although at very high altitude the engine ran a bit roughly - presumably the Webers found themselves a bit short of oxygen - it returned to its familiar smooth running with a steady tick-over after descending from the mountains.
As regards water temperature, the needle of the gauge sat resolutely central in virtually all circumstances - even when the car was near stationary for 45 minutes in the blistering heat of a Milan autostrada - cause of that hold-up: a sadly squashed Saxo.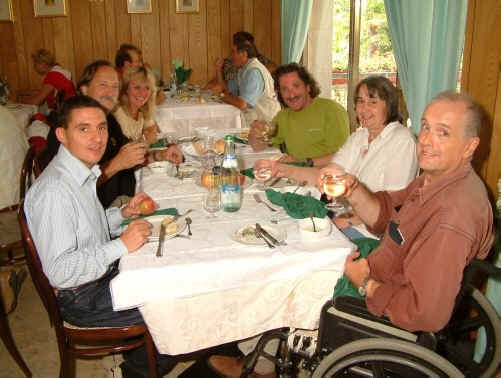 The water temperature would rise only during sustained driving at or near the car's maximum speed (a procedure never attempted in UK), though fortunately the system never heated enough to cause water loss and also a few miles at moderate velocity would quickly restore the norm. Equally, the oil pressure gauge held commendably steady.
Although when thoroughly hot the oil pressure would drop right down at tick-over, as soon as the throttle was 'blipped' it would jump back up and stay up when the engine was at operational revs. The engine burnt less than one litre of oil in travelling over 2350 miles during which the car averaged just over 27.5mpg (unleaded plus Castrol fuel additive).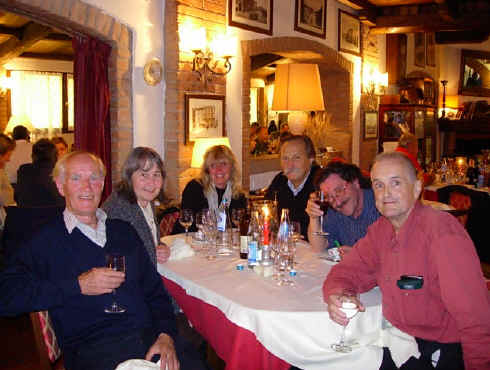 I thought the fuel consumption commendable, bearing in mind the mountainous terrain and the 'stop-go' driving of much of the tour - not to mention those spells of very high speed driving. And, incidentally, its beautifully simple hood kept out 99.5% of the rain when driving through deluges across Switzerland on the way there and through France on the way back.
Overall, then, unlike its ageing owner who failed physically during the first part of this Autumn's travels, the Alfa Romeo Spider 1750 Veloce proved itself a thoroughly reliable as well as a highly entertaining performer!



Richard Winter Nov 2003.
Richard left us in 2005 R.I.P.